What does a day in the life of an artist look like?
Oct 24, 2018
I am truly a lover of my profession, my craft and my calling. Nothing on this whole big earth is more satisfying to me than painting. When I am in the groove, it is truly like magic; the rich heavy texture of the paint medium on my palette, the way my brushes feel in my hand, the blend of colors spreading their way across the bumpy surface of the canvas; these all make the experience one of blissful satisfaction. But that is not my job. Honestly, its the best part of it, but I have a bigger calling and it's not always about how I feel. It's about who I am.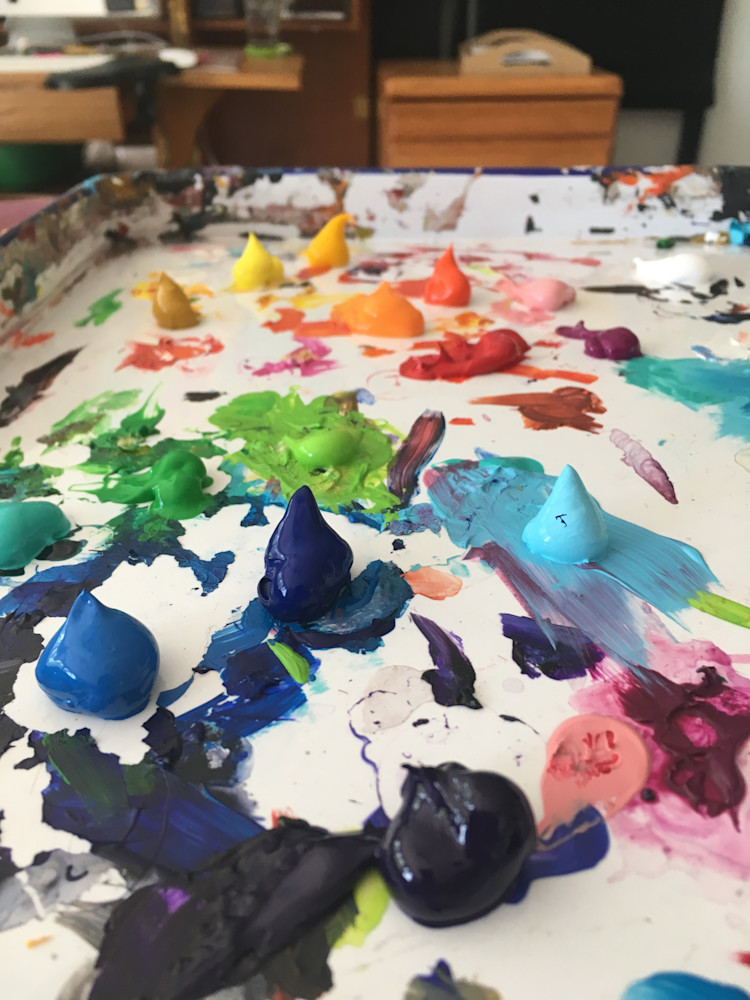 I am a professional business owner in a free enterprise society. I am also a homeowner, a wife and a mother with responsibilities, obligations and goals for a secure future and a fulfilling life. One thing I am not, is a writer. So many times I have sat in front of this computer, with my deep rooted introvertedness pushing me to shrink away from reaching out to the rest of the world, to you, because its so difficult to get my thoughts out in writing. I love you all, my art fans, my fellow creatives and all admirers of beautiful imagery. Thank you for your patience with me.
So what does a typical day look like in the life of an artist? A lot of coffee!
No, but it's all the little things, really. I wake up and remember what I do. I say a prayer to the one who made me this way. There are inventories to count, emails to write, Instagram pictures to tag. For me right now, there is this looming thing called a spreadsheet. It keeps wanting to tell me how much income I need to make to offset my expenses of paints, canvases, office supplies, printing tags, creative software leasing and so on and so on. Then there are all those gorgeous tubes of paint that must be replaced and replenished. There is a newsletter I need to keep up with, and a webpage I need to keep current. There are shows to pursue, exhibits to plan and go hang, and paintings to take down on location. There is hardware to assemble on my paintings, and prints to have printed with labels. I must remember to tally the cost and figure out the prices I need to charge to stay in business. And at the end of the day, it all needs to make sense so that I go to bed at night knowing I am doing my passion, that I'm working earnestly and giving it my all.
Oh, did I forget to mention the painting part?
Every business owner knows. You must be disciplined to do your craft often and well. And so, I paint right smack dab in the middle of all that. I find that I am painting when I'm wearing the right outfit. What I mean is, it already has some paint on it! It's free game. And I definitely paint by artificial lighting after midnight a few nights a week, though I prefer painting during the day in my bright south facing studio.
Still, as demanding as some days are, the whole picture equals a career I love and am passionate about, and some really cool, beautiful art pieces to share with the world. I hope you enjoy the art, it's worth all of the rest